NBC News Interview
Sportade in the Media 1967–197X
Biography
Gerard Balakian, physician and internationally renowned sports medicine pioneer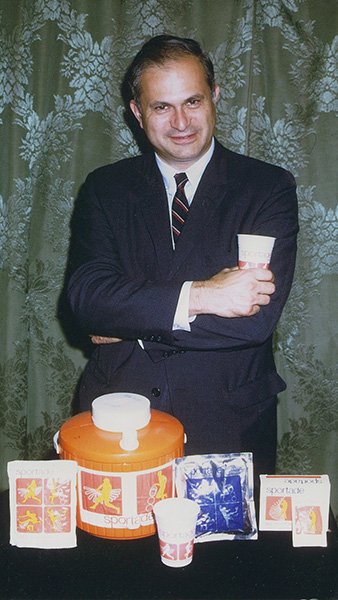 Gerard Balakian (September 10, 1920—April 10, 1981) was an American
physician and sports medicine pioneer and inventor.
Early Life and education
Balakian was born in Constantinople (today Istanbul) , the son of Armenian parents. His father, Diran Balakian, was a physician who specialized in ophthalmology and received his medical degree from the University of Leipzig in 1905, before  he did advanced work on the eye, ear, nose, and throat at the University of Berlin and ophthalmology under the eminent Dr. Ernst Fuchs at the Vienna Medical Center. In the 1920s and 30s he had a private practice on the upper west side of Manhattan and was on the staff at St. Luke's and Lenox Hill Hospitals in New York City.  His mother, Koharig  Panosyan Balakian, daughter of a prominent Constantinople industrialist Murat Panosyan, received her B.A. from Constantinople College for Women (the women's part of Robert College) and a master's degree in pedagogy from Ecole Normal at Chartres.
After the Armenian genocide of 1915, which resulted in the extermination of close to four million Christians (Armenians, Greeks, Assyrians) of Ottoman Turkey, the Balakian family fled to Europe where they lived in the mountain village of Collonges Su Salev in the French Alps near Geneva and briefly in Vienna.  Balakian came with his family to New York City in 1926. He grew up on the upper west side of Manhattan,  and was educated in the public schools there. He received his B.A. from New York University and his M.D. from the State University of New York, College of Medicine at the age of 23.
After a residency in Internal Medicine at Jersey City Medical Center, he began his private practice in Teaneck, New Jersey  in 1948  and was  an attending physician at Englewood Hospital for over 30 years.  In 1950 he married Arax Aroosian, who held a B.A. in Chemistry from Bucknell University and worked in the laboratories of Ciba Pharmaceutical until her marriage. Their four children are Peter (b.1951), Pamela (b. 1954) James (b.1956), and Janet (b.1961).
Sports Medicine Inventor
Alarmed by the growing number of deaths among athletes, especially football players who were having heat stroke, in some cases resulting in death, Dr. Balakian, in 1965 (the year his son Peter began playing high school football), began research on electrolyte replenishment. Working at home on his kitchen table, at times with the aid of his wife Arax, he developed what he called "an isotonic, thirst quenching beverage" and trademarked it: Sportade. Dr. Balakian was well qualified to study heat stroke and electrolytes. As an attending physician who specialized in internal medicine at Englewood Hospital in Englewood, New Jersey, he was Chairman of the Pharmacy Committee, Coordinator in the Adverse Drug Reaction Program of the FDA, and Chairman of the Institutional Review Committee on Investigational Drugs.
Dr. Balakian invented Sportade as an isotonic thirst quenching drink to replenish various minerals such as potassium and sodium that are lost by athletes during physical exertion. By 1968, Balakian had licensed Sportade to Becton-Dickinson, the pharmaceutical and medical supply company based in Rutherford, New Jersey.  Sportade quickly became a sensation and received extensive media coverage in The New York Times, (including a feature in the Sunday Sports Section of the New York Times, ( 10/8/67), and  Newsweek, World Tennis Magazine, Soft Drinks Review, The Medical Times, and others.  Dr. Balakian appeared on NBC television . Balakian's articles and essays on electrolyte replenishment had an impact on the growing awareness of this new field as his feature essay in The Medical Times indicated. Dr. Balakian lectured extensively at universities and medical forums across America and spoke at the World Congress of Sports Medicine at Oxford University in 1970. He appeared as well on the Voice of America and NBC television.
From 1968 to the mid 1970s Sportade was well received in the athletic world. Among its first users were college football teams including Notre Dame, USC, Texas A&M, Syracuse, Stanford, Rutgers, Dartmouth, Bucknell, as well as high schools around the country. In the NFL the New York Jets and the New York Giants were among the first teams to use Sportade and Balakian conducted tests on the New York Giants during their summer training sessions in 1966 and 67, which aided his conclusions about the effectiveness of Sportade. The Mount Kenya Safari Club, the 1968 US Olympic tennis team, NBC News in Saigon, tennis champion Renee Lacoste were also among its first users.  Sportade was used at the Olympics in 1968, and in 1969 it was the featured drink at the U.S. Tennis Open. It was registered in 8 (clarify)  foreign countries and also in Canada, Mexico, Hong Kong, Japan, Malaysia, Singapore, and Thailand.
In is an interesting coincidence that Dr. Robert Cade, a professor of nephrology at the University of Florida led a research team–which included Doctors Dana Shires, James Free, and Alejandro G. Quesada–that began their work on a similar product Gator Ade during that very year; for a decade Sportade and Gatorade were competing in the new market of electrolyte beverages that they had both created.
Sportade was first manufactured in powder and later in liquid and sold in five flavors: orange, grapefruit, lime, lemon, and lemon-lime and was also in a hot chocolate version for the ski market. In the marketing tests that Becton-Dickinson conducted in 1969 consumer tests indicated a strong preference for Sportade over Gatorade on taste and flavor and at the time Sportade  provided a broader spectrum of minerals.
In 1976 Balakian decided not to continue his licensing agreement with Becton Dickinson, and in the  late 1970s Balakian formed a start up company Sportade Beverage, which was short, lived. In the wake of Dr. Balakian's death in 1981, the company was discontinued. Dr. Balakian was prescient in saying as early as 1966: "electrolyte drinks will revolutionize sports and daily exercise and in 20 years will be in every in household in America."
Community Service
Balakian served patients in Bergen County from 1948 until his death in 1981. He was known as a sensitive and caring physician who gave of his time generously making middle of the night house-calls throughout his career. For years he donated his time for weekly rounds at the Armenian Old Age Home in Emerson, New Jersey and he directed the clinic for diabetic patients at Englewood Hospital. In the mid 1970s he was President of Board of Health of Tenafly, and was also a  football team physician for Englewood School for Boys 1965-68) and was also worked with  Tenafly High School football program, especially with the testing of Sportade, in the late '60s and early '70s.
He was a founding parish member of St. Thomas Armenian Apostolic Church  of Tenafly, New Jersey in the 1964. An avid sports fan and college football buff, Balakian also had a deep interest in Armenian history, and wrote occasional essays for the Armenian press on Armenian history and culture, as well as a draft of a play about the last Armenian King, Leo V who ruled the Cilician Armenian Kingdom in the late fourteenth century.